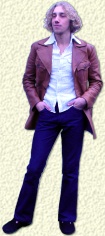 I dont want to give people the wrong impression - the praise and thanks I recieve is extremely heart-warming, but I need to make one thing clear - putting AIAB together is relatively easy ;) Therefore, if you're after someone to thank for reliving your memories, it should really be Bernd Schmidt, Brian King, and the rest of the UAE team, for coding an emulator powerful enough for the AIAB distribution to run on-top of it!
Praise must go out to all those people who have allowed me to use their wonderful software, with Tobias Abt and Alexander Kneer (the Picasso96 team, for without their driver software, AIAB would be stuck using a tiny, slow 8bit screen!
But what about me? Well, I'm a 20 year old student, studying EIMC at the University of Bradford. Im a bit of a hippy, (wishing I was living 30 years ago), and am into late 60s / early 70s popular culture; from the films and music of the era, through to the fashions, and the beautiful cars!
Aswell as maintaining the AIAB package, and playing my music too loud, I am also an avid independant cinema fan, with a particular penchant for foreign film - In fact, I refuse to even recognise the dross that comes out of Holywood as film. Its mindless pap.
Anyway, I hope I have enlightened you a little on who I actually am, and what I do. Please understand that university work takes precedence over anything else, consequently AIAB packages or site updates may be a little slow. Thanks for your endless support!
James Maurice Battle - j.m.battle@bradford.ac.uk | AIAB Discussion Board | AIAB Mailing-List
---
James 'jaybee' Maurice Battle
17 Grantham Place
Bradford
West Yorkshire
BD7 1RJ
England

Tel: 01274 421809

Dont Forget! If you do email me with a problem or bug-report, please remember to state your machine setup, and of course which Kickstart ROM / Workbench ADF version you were using, otherwise I probably wont bother replying to your message. ;(
If you're having problems installing AIAB, please Read this help page before contacting me.

Oh, and also, dont ask me to send you ROMs/ADFs nor where to find them. If you want to know how to transfer them from your real Amiga, your best bet would be to try http://eab.abime.net/, which has a search engine, and a discussion board for such topics.