Changing the Workbench titlebar text
Okay, now we know how to change the background, what about the title bar running along the top of the Workbench screen? Its not very interesting is (not that titlebars tend to be riveting entertainment or anything....) As before, to do this youll need:
WinUAE and AmigaInABox working properly on your system, (AIAB setup in 16bit)
An imagination capable of making the titlebar that little bit more appealing
Load up your AIAB setup WinUAE. After a few seconds, everthing will have finished loading and you can change the titlebar.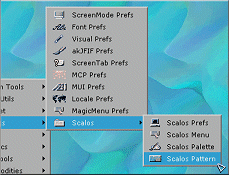 1. From the AmiOS startmenu, navigate:
AIAB===> Settings ===> MCP Prefs
(ie: not as the pic shows it!)
And the GUI below will open.